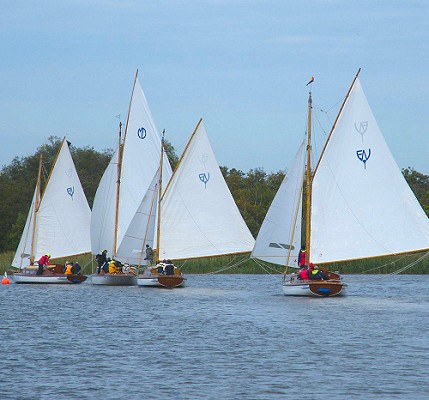 Every year, a unique sailing challenge takes place on the Norfolk Broads. This event is called the Barton Charter Yacht Regatta and as the name implies, racing takes place on Barton Broad (one of the largest stretches of open water on the Broads) and racing is restricted exclusively to hire boats and their crews. Anyone can take part in this fun event by renting a yacht for the week of the regatta and completing your entry form. A basic understanding of racing rules is required and a little previous racing experience can be very useful. However, as a friendly event where the emphasis is as much on having fun as winning races, everyone is very welcome.
The event normally takes place around the middle of October each year and racing is split into two fleets, one comprising the Bermudan yachts and smaller 'gaffers' and the other fleet consisting of the larger more powerful yachts. Racing is based on a handicap rating for each boat and skipper depending on previous experience and past results. This helps to keep the racing as close and exciting as possible whilst ensuring that each crew has an equal chance of victory. After each day's sailing, there are optional social events which includes dinners, live entertainment and the chance to catch up on the days events with other crews.
If you would like to learn more about this fun and informal event, we would love to chat with you. Just give us a quick call on 01252 796400 and we will let you know how you can get involved.