The Broads offers over 125 miles of navigable waterways stretching from North Norfolk down to the Suffolk borders. Most sailing takes place on the Northern Broads to the north of Great Yarmouth. The waterways here comprise three rivers - the rivers Bure, Yare and Thurne plus many excellent Broads - large expanses of water, many of which offer some great sailing. The largest of these navigable Broads is Barton Broad on the river Ant, famous for being the place where Nelson first learned to sail. Barton Broad is home to a very active sailing club where the unique Norfolk Sailing Punts can often be seen racing. It is also the home of the annual Barton Charter Yacht Regatta. Barton Broad has a good depth for sailing across most of the Broad and some excellent moorings at both Neatishead and Gayes Staithe (both within walking distance of the White Horse pub which offer a good choice of food and drinks)
Sailing south from Barton onto the river Bure, there are numerous attractive Broads including Wroxham Broad - home to Wroxham Sailing Club with a very active racing programme and Salhouse Broad which offers moorings within a short distance of the village of Salhouse. This is a popular evening mooring being close to the Fur & Feathers which is both the local pub/restaurant and brewery of many fine Norfolk Ales!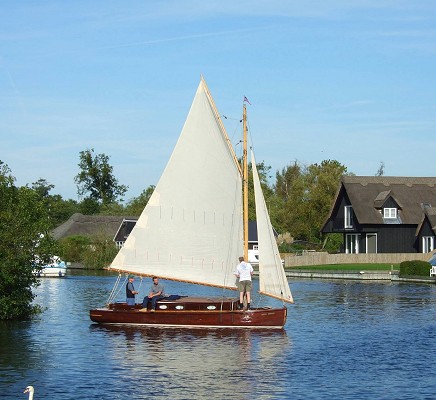 Take time to explore Black Horse broad, South Walsham and Ranworth not forgetting to take time to moor at St. Benets Abbey - a large and fascinating historical ruin with the remains of an old wind pump built within the structure of the original abbey gatehouse. If you look carefully, you can still see carvings of a knight in armour slaying a dragon on the inner gatehouse wall that date back over 600 years
Moving from the river Bure onto the River Thurne takes you North, passing Womack Water and then on towards Potter Heigham with its very low Mediaeval bridge (check the water levels when sailing larger yachts as even with the mast lowered it may still be a tight squeeze!). Beyond Potter Heigham bridge you will reach Hickling Broad and Horsey Mere. Both Broads offer some excellent sailing and it is well worth mooring for one evening by the wind pump at Horsey and taking a climb to the top to enjoy the fabulous views back across the Broad. Take the 40 minute level walk from here to Horsey Gap (following signs) and you will reach miles of golden sandy beach. Here you can often gray and common seals near to the waters edge of snoozing on the sands. In the late season (October onwards) you will also see many seal pups as the adult seals come ashore to nurse their young.
The highlighted routes and locations above are just a few of our favourites but there are many more locations to explore on your Broads sailing adventure. If you would like to discuss any aspect of your planned Broads sailing holiday, our team are all experienced in sailing these unique waterways and we are always delighted to be able to help you plan your perfect sailing getaway.