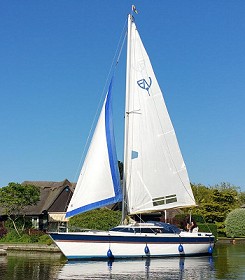 Whether you choose to sail a modern Bermudan rigged yacht or a traditional Broads 'gaffer' for your holiday, you are guaranteed a unique sailing experience. All yachts have been specially built with shorter shallower keels than their sea going counterparts to ensure they are ideally suited for sailing the Broads. This means that they are able to tack easily and quickly, allowing you to make full use of the available width of even the narrowest of navigable rivers. Despite their shorter keels, all Broads yachts are capable of an excellent turn of speed when sailing to windward and provide an exciting an challenging experience in reading the variable wind direction and speed as you navigate these unique inland waterways.
For those with previous dinghy sailing experience, the rig and feel of the modern Bermudan rigged Broads yachts will feel very familiar and it takes only a little time to adapt to sailing a larger vessel. Our modern Bermudan style yachts offer you spacious accommodation, comfort and easy handling and they are perfectly adapted for Broads sailing with easy lower masts (to navigate under the bridges) and short shallow keels for effortless tacking, even in the narrowest river sections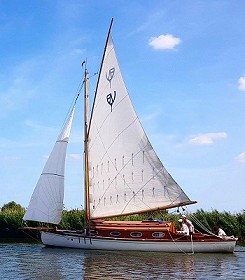 If you prefer to try the more traditional experience of an elegant gaff rigged Broads yacht, we can offer a choice of boats sleeping from two to eight. The gaff rig is an ideal configuration for catching even the lightest breeze and provides the experienced sailor and relative novice with a truly unique 'Swallows and Amazons' adventure. Gaff rigged yachts generally have counterbalanced masts for ease of lowering at the bridges and offer comfortable accommodation with heating, fully equipped galley and comfortable beds. Some also feature an on-board shower, but for those that don't, there are numerous public shower facilities around many of the marinas and yacht stations across the Broads.
Whatever your preferred type of yacht or your previous sailing experience, you are assured of a truly amazing sailing holiday exploring the magical waterways of the Norfolk Broads!