Don't worry if you have never sailed before or if you only have dinghy sailing experience and are now looking for your first time sailing a larger keel boat. The Broads is the perfect place to learn to sail. With no noticeable tides, a choice of open waters and meandering rivers, The Broads offers a safe and beautiful sail training playground. Indeed, one of Norfolk's most famous sons - Lord Nelson, is thought to have learnt his early sailing skills on the Broads.
Whilst every sailing holiday includes a full show through of your chosen yacht (including raising and lowering the mast for the bridges and reefing for blustery days) we can also offer a full choice of sailing courses. This can be as simple as spending your first few hours on the water with an experienced instructor or taking a more formal programme of training. The range of courses available are: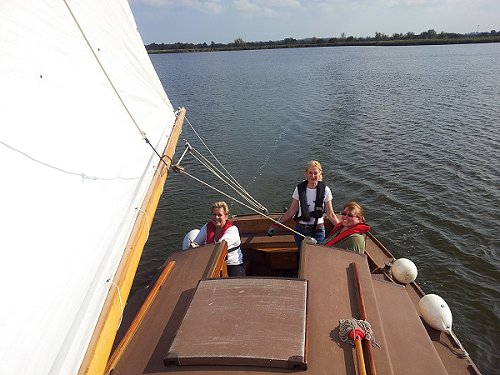 Start Sailing (Level 1)
Basic Skills (Level 2)
Better Sailing (Level 3)
Seamanship Skills
Day Sailing
ICC Assessment
The 'Start Sailing' course can be taken over a short weekend or midweek break. Your instruction will be undertaken on at either Upton Yacht Station or Martham Ferry, depending on your choice of boat and introduces beginners to the basics of sailing. This includes learning to handle the sails and sheets (ropes), tacking up the rivers and gaining an understanding reading and of using the wind under varying conditions. Those who already have some previous sailing experience can try a 'Basic Skills' module to develop their knowledge further. This is ideal course for those who have only previously sailed a dinghy and now want to progress to keel yacht sailing. More advanced training modules can be taken on board one of the stunning Broads gaff rigged yachts. Instruction includes passage making and seamanship skills.
Whichever course you choose, the instruction is focused on practical experience and includes aspects of sailing that are specific to the Broads and the yachts that are designed for these unique inland waterways. Each course is also focused on enjoyment and relaxation and your instructor will leave you moored overnight at some of the most stunning locations on the Broads where you can enjoy the hospitality of the waterside pubs and restaurants or simply explore the surrounding area on foot.